A scholarship for a master's degree helped her reclaim her future
Aisha Sanni came to Sweden to further her education at Kristianstad University because she wanted to advance her career. She gained a new level of confidence.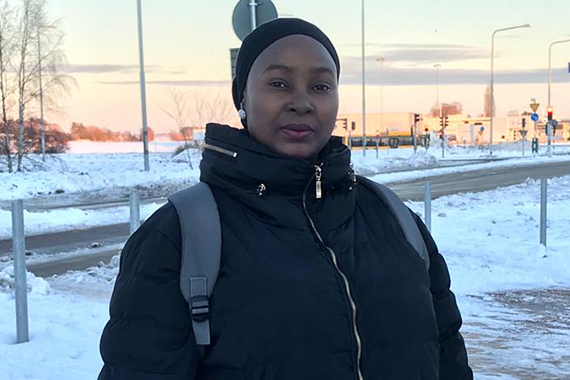 Aisha Sanni from Nigeria is working on a master's degree in Kristianstad.
According to graduate student Aisha Sanni, the opportunity to attend Kristianstad University as part of the Swedish Institute's Scholarships for Global Professionals program couldn't have come at a better time.
– I actually got this scholarship at the point where I was at the lowest in my life, the 33-year-old from Lagos, Nigeria, says. It came at a point when I'd lost all confidence in myself.
There's a constant presence of gender inequality in Nigeria, Aisha Sanni explains. And it's found in many workplaces, where many professional women with talent and education can find themselves frustratingly stuck and unable to advance their careers. It happened to her.
– It robs you of your confidence, Aisha says. And sometimes you will question if you are good enough to obtain those top positions.
She felt that her best chance at breaking through the glass ceiling was to further her education, especially within an international context. Aisha Sanni already earned a bachelor's degree in accounting, so a master's degree in business administration from an international program made sense. But she didn't have the financial means to do it.
Luckily for me, in 2019, one of my friends was awarded the Swedish Institute scholarship. And that was how I learned about the scholarship.
According to Aisha, she made her friend walk her through the whole process of applying – showing her the website and going over the information. She not only realized that she met all the qualifications to apply, but that she was drawn to a specific degree program that was eligible for the scholarship at Kristianstad University: A Master's Degree in Business Administration, specialization in Auditing and Control.
A different way of learning
Aisha wasn't that familiar with Sweden or Kristianstad. And she wasn't entirely sure what to expect when she applied, nor when she was accepted by the program and first arrived in Kristianstad in 2020. It wasn't until she began her coursework that she realized that the teaching and learning style was not what she was used to.
– The education system in Nigeria is far different to what they have in Sweden, Aisha explains.
Her previous higher education experiences had featured multiple course loads with a focus on learning through the memorization of lessons and facts with lots of exams and cramming.
Aisha found herself in an education program where students focus on one course at a time, with lesson plans built around real-world practicality. And she was expected to not only engage in discussions with professors and lecturers but fellow students as well.
– At first, it was difficult for me to cope, Aisha says, looking back, and even admits to feeling some of that old questioning self-doubt. At first, I felt, can I do this?
But her drop in self-confidence didn't last, and she can now reflect on it honestly.
– I struggled initially; that's a reality. But as the course progressed, I found it more natural. I got more relaxed.
"I'm seeing myself in a better perspective than I used to"
According to Aisha, it's been the style of learning that has made her experience so profound. From the engagement with educators and collaboration with fellow students to the mix of theory and practical work examples, she says the experience has given her a deep understanding of the subject beyond simple rote memorization.
And Aisha's postgraduate work has more than affected her thoughts on the subject matter.
I've learned a lot, and I'm seeing myself in a better perspective than I used to.
– I am very grateful to the Swedish Institute for giving me this opportunity. It makes me feel that I have more than enough talents to continue to do work. It makes me feel relevant. It makes me feel I'm not as low as I think I used to be back home.
As for her plans for the future, Aisha Sanni is weighing her options. She still has one more semester left at Kristianstad University, but after that, she may join another program to keep learning in Sweden.
– I have a lot of business ideas that have to do with sustainability, she explains. So I hope to become a CEO in the future in my own business. That's my future.
Written by: Svengard & Co
About Swedish Institute Scholarships for Global Professionals
This scholarship is a great way to fully fund both your tuition fees and living costs during your master's studies at Kristianstad University.
The scholarship is available for citizens from many countries for master programs starting in autumn semester, and fully covers your tuition fees to the Swedish university you are attending. You will also receive a monthly payment to cover your living expenses throughout the scholarship.
Swedish Institute scholarships