Global Swede of the year wants to make the banking more transparent
She has worked hard to achieve her goals and exceeded in meeting the challenging demands and expectations placed on a master's student. Yet, she doesn't focus just on herself — giving her attention to her fellow students as well. For those reasons, and because of her ambition to continually develop and grow, student Heba Elkadi received the Global Swede award during a digital ceremony by the Swedish Ministry for Foreign Affairs.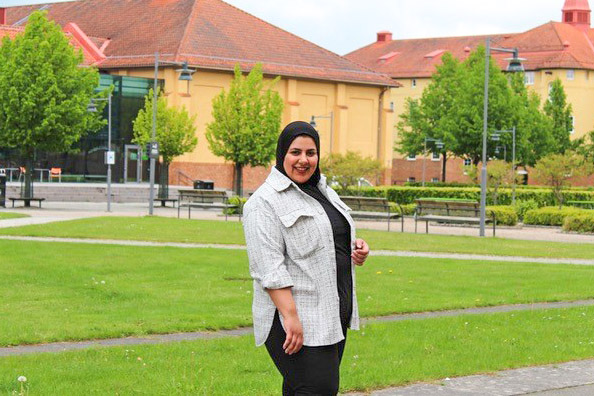 Heba Elkadi, Global Swede 2021, at Kristianstad University.
Elkadi arrived at Kristianstad, Sweden, last autumn and did not know much about either the country or the city beforehand, but she'd felt the university's curriculum for the international master's program in auditing and control was a perfect fit. It matched her vision for the future, and she had heard a lot of good things about Swedish universities. And when she also saw that Kristianstad is a smaller city, all the pieces fell into place.

"Big cities stress me out," says Elkadi. "I mostly feel like I am not invited ... my existence does not matter. Smaller cities calm me down, allow me to hear my inner voice better and understand what I want. It also benefits my studies, offering me the ability to focus."
"I want to help build a banking system in Egypt that is as transparent as in the developed countries."
Elkadi earned a degree in English commerce with a specialisation in accounting in her native Egypt, where she worked as a banker. It was at that job that she and her employer both discovered her talent for detecting transaction errors. Eventually, her ease at spotting problems in bank records would help give her a clear sense of her dreams.
"I decided to become an auditor for banks. I want to help build a banking system in Egypt that is as transparent as in the developed countries," Elkadi explains. "My long-term goal is to join the banking regulatory bodies and be able to influence the sector."
She intends to continue with further studies to achieve her goals.
"Of course, I'll need a lot more knowledge, which I'm constantly attempting to accumulate."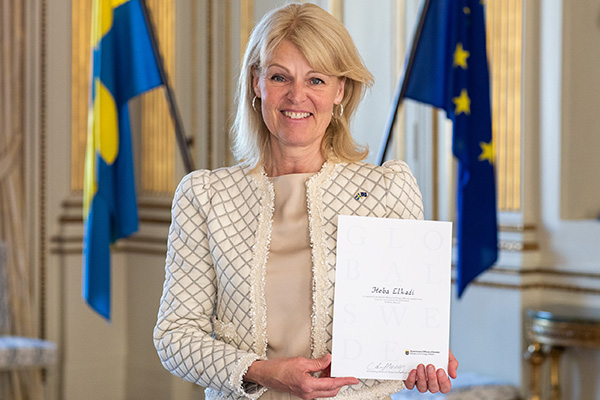 Anna Hallberg, Minister for Foreign Trade, with Heba Elkadi's Global Swede diploma.
The Global Swede award is not the only reward
However, Elkadi's studies in Sweden have not always gone as planned. After starting her education, she even doubted whether she would be able to manage with, what was for her, a different teaching method in Sweden, with a significant focus on independent studies.
"I worked hard to cope with everything," she remarks. "Teachers offer lots of guidance, but students have to research and develop a lot on their own. In the beginning, it was a challenge, but over time I realised that it gives me an understanding I would never have gained through lectures alone. It requires a lot of motivation from the student, but it drives you forward."
To receive the Global Swede award, especially in a ceremony (albeit digitally this year) from the Minister for Foreign Trade, was an extraordinary feeling for Elkadi.
"I almost couldn't believe it," she recalls, "especially since accounting and auditing aren't generally looked at as innovative sectors. Although, I do believe that the increasing complexity in the industry requires further creativity and innovation to better regulate it."
"The diversity in the Swedish universities is incredible. Without travelling I can explore new cultures."
Elkadi sees the award as a confirmation that she is on the right path with her studies and plans for the future. But the Global Swede award is not the only reward she has received during her year in Sweden. Like so many other exchange students, Ekladi has forged friendships, memories, and experiences that will last for life.
"During my studies in Sweden, I meet people from many different places and cultures," she explains. "The diversity in the Swedish universities is incredible. Without travelling I can explore new cultures."
But that international feel never gave Elkadi the stressful sense of being an insignificant part of a crowded cityscape.

"The fact that Kristianstad is a small city makes it both practical and cosy," she asserts. "It's close to the sandy beaches of Åhus, there are beautiful walks, and you're near nature almost everywhere. So whenever studying gets too intense and nerve-racking, it is easy to create balance again."
Text: Fabian Rimfors
Photo: Private, Swedish Institute and Björn Melin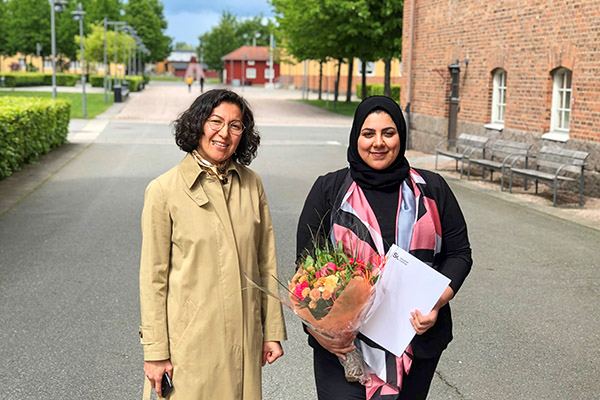 Representing Kristianstad University, Indira Kjellstrand, and Global Swede, Heba Elkadi.