The studies gave me greater knowledge and confidence
Ardian Lokaj, born in Kosovo, hadn't heard of Kristianstad University before. But he decided to give it a chance and applied for the Master programme in Business Administration, specialising in Auditing and Control. He hopes that this year of intense studies will open the door to a broader labor market.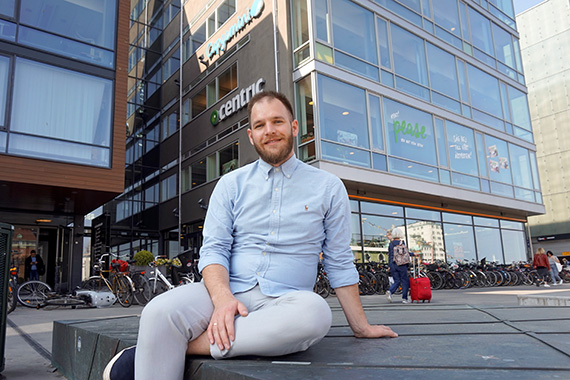 – I've learnt so much during this year. Now, it's time for me to try my wings, says 29 year old Ardian Lokaj.
When we meet Ardian Lokaj he has just gone through his very first job interview at a Swedish company in Malmö.
– Right now I'm just relieved. We had a good talk, and then we'll see what happens. But at least I feel that I have something to offer my future employers.
A few weeks of studies remain at Kristianstad University, at the Master programme in Business Administration, specialising in Auditing and Control. This summer he will make his way into the labour market.
Ardian Lokaj was born in Kosovo and the interest in numbers and economy was raised early in life.
– Accounting, it's the language of economy. It helps companies translate numbers into important decisions. It's something I really like.
Having obtained his bachelor's degree in economics at the University of Pristina, he worked as a sales agent. After a few years he got promoted to project owner at the company, but then it stopped.
– I felt a bit limited in my field. Therefore, I thought that a master's degree would give me more possibilities in the labour market.
Scandinavia attracted Ardian
During his previous studies, he had spent a year as an Erasmus student in Austria. This time he again applied to a foreign university. Scandinavia attracted him a little extra, as he had a Swedish girlfriend.
– In addition, I discovered that several Swedish universities offered full programs in English.
Ardian's first choice was Lund University, but as he was not accepted there, he started to glance at Kristianstad University.
– It's obviously a smaller university, so I hadn't heard of it before. But I decided to give it a chance. I remember my first impression when I got there. Everything was well organized and coordinated. I really liked the environment with all the space, both for studies and other activities. It really helps the students in their daily lives.
The classmates on the program are a mix of local Swedes and international students from all over the world.
– We have a good atmosphere where we can help and support each other. We have many assignments and group work, which facilitate both collaboration and friendship.
Ardian Lokaj also appreciates the teachers' support and commitment.
– Their doors are always open and they are always available for the students. They also give a clear direction of what they want from us.
Practical knowledge
The program focuses on practical knowledge, and during the first semester the students spent a period on the WIL, Work Integrated Learning. Ardian Lokaj was given the opportunity to attend the international audit firm PwC in Kristianstad.
– The university has good relations with many companies, which gives the students the chance to establish valuable contacts.
Right now, Ardian Lokaj is writing his master thesis, which is based on so-called visual auditing. By examining the pictures in annual reports, he can get an idea of how the company handles the diversity when it comes to gender, age and ethnicity.
– Today, diversity is an undeniable subject within the companies, but it is interesting to see how this is presented.
After graduating in June, he hopes to get a job in one of the international companies located in Skåne. He believes that the year of studying at Kristianstad University has greatly increased his chances.
– And if I don't get a job immediately, I can always improve my Swedish and maybe attend a supplementary course in Swedish tax laws. Whatever happens, I feel that I have gained much greater confidence and I know that I would be an asset to an employer. That's also what I felt during the job interview this morning: I knew what I was talking about.
Written by: Kerstin Weman Thornell