The Master Programme will strengthen my case
As a foreigner in Sweden, Joshua Maine felt like his education and working experience were not enough. Now he has find a way to close the gap - through the Masters Programme in International Business and Marketing at Kristianstad University.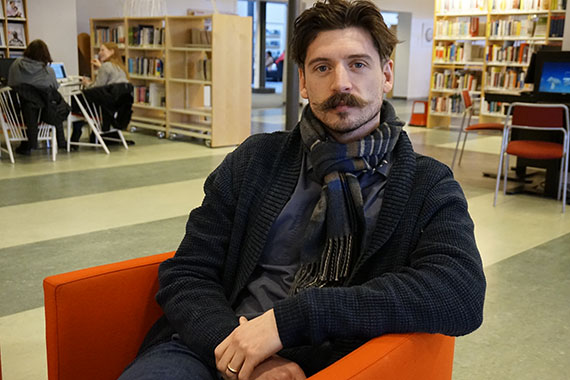 Joshua Maine says that the programme at Kristianstad Univiersity has exceeded his expectations.
–It's a very intense programme. Not only regarding the amount of work, but also the standards.
– We have a very intense schedule right now...
We manage to catch Joshua Main in the library during a short lunch break between the lectures. Since september, he is following the Masters Programme in International Business and Marketing at Kristianstad University,
When applying for this programme, his primary goal was to get the name of a Swedish institution on his CV.
– As a foreigner in Sweden, I had some difficulties in finding a job in my field. I felt I had to strengthen my case.
Born and raised in south east of England, near Canterbury, Joshua Maine got his first job in architectural stone masonry.
– I have a working class background, so it came naturally to try to get a job as soon as I left school. Working with masonry was very physical, but after some time, I developed more interest in the business side of it.
He had a plan of going to the university, but he met a Swedish girl and eventually, after a year in London, they decided to move to her native country in 2012. From his new home in Malmö, Joshua Maine was studying on distance through Open University, to achieve a bachelor of Science in business and marketing.
For a couple of years, he was studying full time and at the same time working full time for an online media company. In spite of this, he describes the difficulties in finding a job in his specific field.
– In Sweden, there is a different attitude to education. A bachelor is simply not enough. Besides, there is a perception that Sweden and the UK are culturally close, but when it came to finding secure employment, my education and experience as a foreigner weren't sufficient. I felt I had to show that I had come through the Swedish system – that´s why I applied for this programme.
Nevertheless, the contents of the programme have exceeded his expectations. He describes the programme as challenging. In the class, there are students from all over the world, notably the Middle East, Pakistan, the Netherlands. Still, he perceives the classroom situation as very Scandinavian.
– I come from a hierachical society with very clear lines between people. In Sweden, people are more equal and collaborative. It´s an open environment where you share opinions.
Already the first week, the student were applying to the companies where they wanted to do their WIL (Work Integrated Learning). During the autumn, Joshua Maine and some of the other students got the opportunity to cooperate with Absolut Vodka in Åhus. They had a meeting with senior employees to discuss how they could help the company from a research perspective. Parallel to the studies, they have worked with the paper which was handed in two weeks ago.
After the present course, which is treating research methods, Joshua Maine and his course companions will start to work with the final thesis.
– And after that?
– Good question... I'll be looking for a job. I already know that I have a more appealing CV, and a better chance of closing the gap. Since I started the masters programme, I notice a bigger interest for me as an employee. So, I think it´s working.
Written by: Kerstin Weman Thorell