"The programme was a perfect match"
With a passion for international business and an aesthetic eye, Kajsa Nilsson from Sweden found the Master Programme in Business Administration specialising in International Business and Marketing to be a perfect match.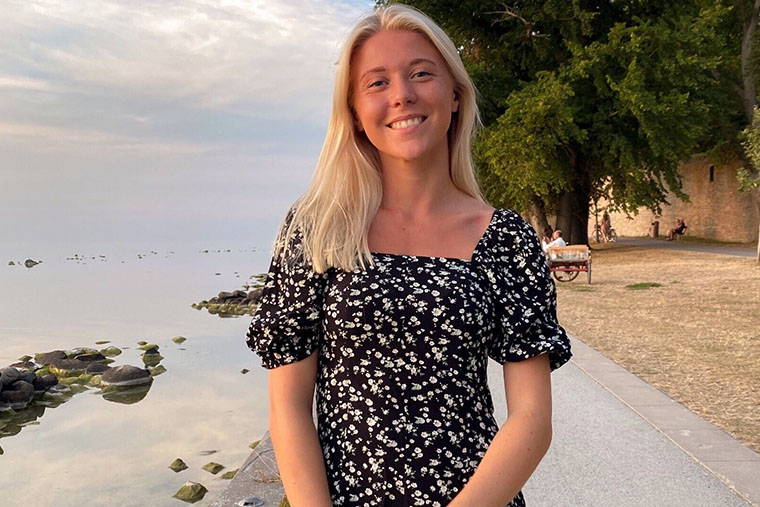 Why did you choose the Master programme in business administration specialising in international business and marketing?
– My passion for international business combined with my eye for aesthetics, were the main reasons for why I chose this master's programme. I have always had an interest in exploring other cultures, which makes me thrive in international contexts. So the opportunity to study in an international programme with students from around the world was a perfect match for me.
– Additionally, the potential to enhance my skills and competency within marketing was another motive. Since specialist knowledge within the creative field is required in our competitive global world, the programme became even more attractive.
Why did you choose to study at Kristianstad University?
– After completing the bachelor's programme in business administration at Kristianstad University, I had a very positive view of it as an international and open-minded university. One of the main reasons is the close relationships you get with the committed teachers and professors. My advice is to be curious and engaged in class. The teachers encourage interactive learning, where you can participate in conversations and debates. Also, studying at Kristianstad University will give you an opportunity to live in a cosy and genuinely beautiful city, not to mention only 15 minutes away from Sweden's most beautiful beaches.
What has been the best experience from your time in the master's programme?
– I have built friendships on a global level, and I have grown as a person. The "Business Ethics and Work-Integrated Learning" course, which focused on the Sustainability Development Goals, will always have a special place in my heart. The course included a group assignment where we had the opportunity to put what we had been taught into practice. My group consisted of students from Sweden, Kosovo, Italy, and the US. We had such a great time together and I will especially remember the day we were all invited to our Italian course mate for pasta.
What are your plans after this programme?
– I have just started to work as a project manager at a marketing and communications agency in Kristianstad. In my role, I am responsible for both leading and managing customer projects with a creative team. The best part of my job so far is getting to practice my skills and what I learned at university.
Any tips for future international students?
– My overall advice is to be open-minded, curious, and brave. I studied for a semester in Hong Kong for my bachelor's, and the experience of living in another country is amazing. Take the chance and apply for the master's programme! You will never regret it.