"We are focus-driven people from all over the world"
Friendly people and breath-taking landscapes – that were the two things Karyn Hyde-Cooper noticed when she first got to Sweden. But after a year at the Master programme, specializing in International Business and Marketing, she can add a lot of other things to the list.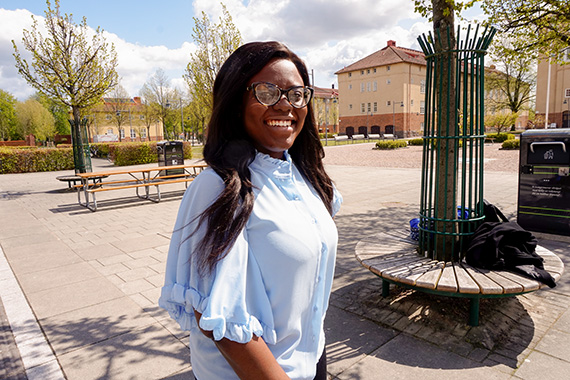 Karyn Hyde-Cooper describes the year at Kristianstad University as both challenging and fulfilling.
We have agreed on an appointment in the library at Kristianstad University – a place where 27 years old student Karyn Hyde-Cooper spends a lot of time. It's only a few weeks before the exam from the Master programme, specializing in International Business and Marketing. Still, she seems quite relaxed.
– Right now, I feel that I'm in control of the thesis, and I have a good dialogue with my supervisor.
Karyn Hyde-Coooper, who is one of the international students at the programme, was born in Ghana, West Africa. To her, it came naturally to choose an education in the field of Business administration. Business runs in the family.
– My mother is a business woman, trading African clothes and artefacts, so it wasn't a very hard choice.
She received her bachelor's degree in Business Administration at Ashesi university in Accra, and then worked with finance and marketing at a multinational corporation. But after three and a half years, she decided to upgrade her knowledge.
– I had heard that Sweden has the best educational system in the world. The fact that there where a lot of international students here, made it easier to take this big step and leave my home country.
When applying for Swedish universities, Kristianstad was on the top of the wishlist.
– I like the size of the town, maybe because I'm from a small town myself. It means less noise and bigger chance to concentrate on my studies.
Friendly people and breath-taking landscape
Her first impression, when coming to Sweden in August 2018, was "friendly people and breath-taking landscape". She still remembers the very first lesson at the university led by Daniela Argento, associate professor in Management Control and Accounting.
– I loved it, because it was very interactive. Even though the courses are based on a lot of research, there are no right or wrong answers in class, but everything is open for discussion. This makes the knowledge easy to retain.
She also describes the classmates as determined and focus-driven people from all over the world.
– We have very diverse backgrounds, such as Pakistan, Germany and UAE, but we are all open to help each other with information and literature.
In the Master programme practical knowledge is important, and the students are sent out on WIL, Work Integrated Learning, at an enterprise. Karyn Hyde-Cooper spent a period on the regional energy company Öresundskraft.
– Of course they were stressed by their daily work – still, they took the time to sit down and discuss our project. I really appreciated that.
New knowledge
From her former education and working experience, Karyn Hyde-Cooper was interested in marketing, strategy and branding. Now, she can also add CSR and sustainability to the list. In her master's thesis, she describes how the costumers react to the hotels that try to present an eco-friendly profile.
In the beginning of June, she leaves the university with a master's degree on her CV. What will happen next, she doesn't know yet.
– Of course, I'm determined to take every opportunity I can, and make the best of it. This year at Kristianstad University has made me even more comfortable to interact with other people. That's an experience that I will bring with me, wherever I go
Written by: Kerstin Weman Thornell