Become a platform project
Do you have an idea for a research project?
Below we have collected instructions for the application process – from project idea to funded platform project.
At the Research Platform Business Development in Collaboration, we welcome project ideas throughout the year, while the relevance of project ideas is assessed four times per year by the collaboration group. The following deadlines apply for assessments:
March 1
June 1
September 1
December 1


How to apply:
Step 1 - Submit a project idea
Application documents and instructions for project idea(pdf, 1434 kB) (pdf, 1434 kB) (Download pdf: documents on your computer and open with a program that supports pdf documents. If necessary you can download and install Acrobat Reader for free).
The first step in applying for funding for a research project is to submit a project idea. It is only if the project idea is deemed relevant by the Research Director and the Chairperson of the Collaboration Group that it goes on for an overall assessment of all the Collaboration Group members. It is only if the project idea is considered relevant by the members of the Collaboration Group as a complete project idea and financial plan is requested. The application document Project idea is sent to the e-mail address: fpvis@hkr.se. In order to be treated at the next assessment opportunity, it is important that the form comes in on time. Therefore, be sure to submit the application document no later than the specified dates above.
Step 2 - Project description and financial plan
Application documents and instructions(pdf, 1180 kB) (pdf, 1180 kB). If your project idea is deemed relevant by the Collaboration Group, you are invited to submit a more detailed project description and financial plan. Only the project descriptions and financial plans that follow given instructions are assessed. Since the Scientific Council will assess the scientific quality of the project descriptions (and financial plans) received, you are asked to design the project description together with researchers from the Faculty of Business. If you would like the platform to put you in touch with a researcher within the field of your interest, please email the Research Platform at fpvis@hkr.se.
Project description and financial plan are emailed to fpvis@hkr.se.
The Research Director of the platform has the final say on funding new projects.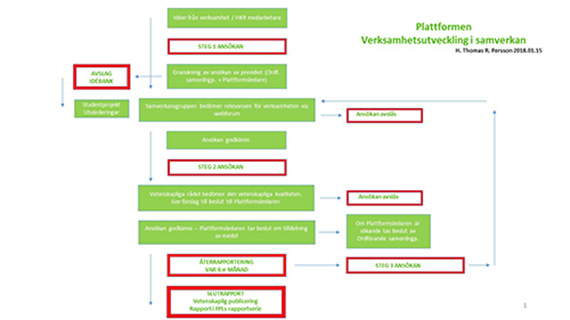 When granted funds
Reporting
A report(pdf, 692 kB) (pdf, 692 kB) must be submitted to the Research Platform every six months based on the date of the decision to follow the project's progress and development.
Final report
The final report(pdf, 1424 kB) (pdf, 1424 kB) must reach the Research Platform no later than 6 months after the funding is completed. If no publications can be presented, a report must be written which is part of the platform's series of letters.