"The opportunity to study by distance was a key factor"
She had been working as a dietitian in a tertiary public hospital for her entire career and was eager to further her skills in public health. Working part-time and living on the other side of the planet, were no problems, since she studied the Master Program in Food and Meal Science at Kristianstad University by distance. Meet our alumni Madeleine Neff from Australia!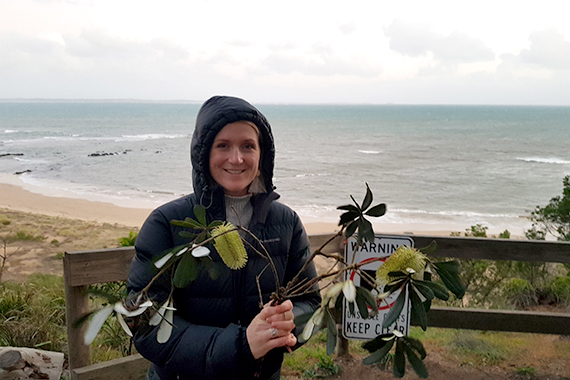 – Merricks Beach is a beautiful quiet beach one hour from Melbourne where I live. We have been going there since I was born and it holds many wonderful memories.
Why did you choose the Master Program in Food and Meal Science?
– I had been working as a dietitian in Australia for many years, and was keen to further my skills in public health. I had worked in a tertiary public hospital for my whole career, caring for patients during admissions with critical or chronic illnesses. So I was keen to explore the interface between our food system and the patient experience before and after their illness, and better understand how we can shape a more positive global food environment.
– The programme appealed to me as there were many aspects of public health foundations such as the food choice architecture, as well as exploration of ethical and legal issues around food. It also allowed for development of research skills by designing and writing a thesis, which are critical skills for my line of work where we are often leading small-scale research studies to lobby for funding or change service delivery models.
Why did you consider studies at Kristianstad University?
– The main reason was that the programme really appealed to me, and the opportunity to study by distance was a key factor as I was moving back to Australia from Sweden at the time. The ability to study part-time as I returned to my work as a dietitian in the hospital allowed for me to carry out the research for the thesis and tie my objectives to an area of need at work.
What is your experience with distance learning?
– I had a really positive experience, as the design of the programme allowed for significant autonomy by offering the lecture recordings and readings at our own time. There were a number of seminars that required live participation, however different times were offered to accommodate the students' commitments.
– There was excellent support and frequent correspondence provided by the lecturers and my amazing thesis supervisor.
What was the best thing from your studies?
– The best thing was being able to complete the master's with support from leaders in the multi-dimensional fields that make up Food and Meal Science. I remember looking forward to logging on and listening to the lectures. The reading requirement was high, however by setting a timetable for study it was achievable, and finding the content interesting helped.
– I have enjoyed staying in contact with the university since completing the programme, and hope to continue this into the future.
What do you do now and do you have future plans for your career?
– With my master's qualification, I have been able to progress my career and take on a senior leadership role within the Dietitian department at the hospital I work at. The knowledge and skills I take away from the programme have been put to use in many projects, quality initiatives and research activities I have been able to undertake since graduating.
– For example, I recently led a student project looking at the food environment on our inpatient psychiatry ward. The students found that the patients consumed an average of 4 packets of sweet biscuits per day from the basket on the ward. By reviewing the accessibility of these high-calorie snack options, and offering a healthy fruit basket instead, a small change can make a big difference for the health of these patients. We also looked at the meal times, and advocated to delay the dinner delivery to reduce late-night snacking.
Any tip for future students?
– Be diligent with scheduling time for your reading, especially if you're working and study part-time. Reach out to your teachers where needed. Their support is so beneficial. Enjoy the learning! You will miss many aspects of it when done.
Text: Fabian Rimfors and Madeleine Neff
Photo: Madeleine Neff