I really enjoyed the lectures!
Sarah Forsberg was an experienced chef and trained gastronome when she applied to the Master programme in Food and Meal Science. The course opened her eyes to the public meal – the thousands of meals served daily in schools, lunch canteens and retirement homes.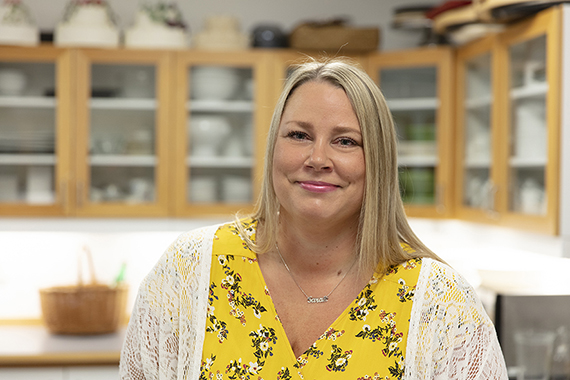 Sarah Forsberg was part of the first cohort of students of the Master programme in Food and Meal Science.
A brief chat with Sarah Forsberg reveals her intense passion for food and meals. Throughout her adult life she has worked close to the kitchen.
– I am a chef and worked for many years in restaurants in both Sweden and Denmark. Eventually the job became effortless and repetitive – I could do it blindfolded. The work was also physically demanding and I started to have aches and pain.
She decided to make a career change and to work with product development in the food industry. This led her to the Food and Meal Sciences programme at Kristianstad University.
After graduating following three years of studying, she landed a fixed-term employment contract at Findus. However, six months later she returned to the university as she was offered a substitute position in the kitchen, and later also a position as a substitute teacher in the Food and Meal Sciences programme. Once there, she decided to go back to school and to complete the Master programme in Health Science on a part-time basis.
– Many of my fellow students had a background in healthcare, but I had to apply what I was learning to food and meals, my big interest.
Halfway through the course, Sarah Forsberg was told that a brand new Master programme would kick off in the spring semester 2017, on the theme of food and meal science. She decided to take a chance. During an intense year, she read both courses in parallel, whilst at same time working as a teacher in the Food and Meal Sciences programme.
– It was a tough, but incredibly instructive time. I knew from the start that the Master programme was right for me. I am passionate about food and meals, and I really enjoyed attending the lectures and ploughing through the literature. It was fantastic fun.
Four Master's students graduated after the first year, all of them with different interests and different specialisations. One was involved in a project about training supplements, someone else devoted themselves to vegan desserts, a third wrote about the nutritional quality of children's eating habits in relation to their parents' knowledge. Sarah was interested in elderly people's experience and acceptance of food distribution. During the year, she completed a study in which a number of seniors described how they perceive the meals delivered by the municipality.
The topic felt natural since a major part of the teaching revolved around meals in a public context. The curriculum included courses in subjects that concerned food for large numbers, consumer criticism and the complexity of food selection.
– The public meal sector is an important part of everyday life for so many people. It can be what our children eat at school, what employees have for lunch in their canteen or what our elderly are fed at retirement homes or by home care. To achieve good health across society, these meals must be tasty and nutritious.
After graduating with a Master's degree in Food and Meal Science and a Master's degree in Health Science, Sarah Forsberg has continued as a PhD student at Kristianstad University. She works on a research project about finger food for the elderly who have motor eating difficulties.
– There are so many interesting projects to get involved in. We are also noticing a big demand in the labour market for graduates with both practical and theoretical knowledge about food and meals.