Arriving at the Högskolan was really nice. Karen from the International Office welcomed us and we felt home from the first moment.
University/Campus
The university is much bigger than my home university but much more friendly with all the trees and all these nice looking buildings. The people are all very nice from the teachers till the students. You can find help even for the stupidest questions all over the place.
At my home country in Germany I study Health Promotion the same I did here in Kristianstad. I had courses like "Sustainable Health" and "Global Health". But despite from my subject I also wanted to learn some Swedish which I did in the "Swedish Lesson".
My classmates were from all over the world except from Sweden. Well I had some but really not much, which was a pity.
The teachers were in time, which was something new for me. Also most of the teaching methods were new but I liked them. Very interesting was also to work with people from different countries because everybody is working a bit different. That's really helpful for the future!
The most impressive thing was that the teachers have time for you whenever you needed them. And if you cannot find them in their office just write them an e-mail and they answer you quicker as you can see. Also they take care of you and are interested also in topics which don't belong to the subject. I never ever can imagine something like that in my home country where some students are only a number.
Because of my perfect experiences at the Högskolan I suggested all the students from my university to apply for this exchange program.
Being an Exchange Student
Here in Sweden I had the best time of my short life. Nobody will believe that if she or he didn't experience that. Before I came to Kristianstad I wasn't sure if I can manage half a year abroad. But I did it and I did it very well.
As I came here I was a bit scared of the rooms because they are small and you have no privacy. But it couldn't have been better. My roommate was also from Germany and the best roommate ever! We had so much fun together that we didn't notice that we had no privacy. After three weeks we even managed to talk English to each other all the time so that we could reach our aim to improve our English. At the end we also talked some Swedish ;)
I joined all trips organized by the international office and every single one of them was perfect! If I have to say which one I liked most...it was the trip to Kiruna! It's the most expensive one but even if I could not go to holidays for the next 2years because of this trip it still worse it!!!! We went to a camp outside of everything, saw the northern lights, thousand of stars, did ice fishing, experienced -27 degree, meters of snow, drove snowmobile and the best every we did dogsledge a experience I will never ever forget in my life!
It was very sad to say goodbye to everybody at the end but I still have contact to nearly everybody today. We European people can meet easily that's no surprise but also a really good friend from South Korea will visit me this summer :)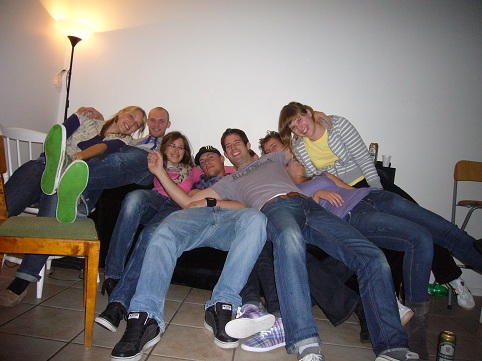 Sweden and Kristianstad
Before I came to Sweden I thought it's cold and dark in the winter season with a lot of snow. But also I was looking forward to all the lakes and the sea. From other people I heard that the population is reserved and not so open-minded.
After my stay now I have totally another point of view. The people are so friendly and nice and help you wherever they can. The only thing is that the streets are empty if it gets dark. It looks like if the Swedish people hide in the houses in the winter.
Although the winter season is awesome in Kristianstad. They have a lot of snow which didn't go for nearly 3 months. It's cold but not too cold. And it's not that dark, longest time was from 10am to 4pm.
The city is a small but a pretty one and you can find everything you can find in a big German city. The next lake is 5-10 minutes away and then you can reach one after another. The whole Skåne region is really nice and you can find a lot of small idyllic villages at the sea. I loved it to make bike trips to various places because everything is so flat and beautiful.
I and my friends visited a lot of different cities in Sweden but also the capitals of Estonia, Denmark and Norway.
Whatever you have read about a stay in Kristianstad now you have to experience it yourself! But what you should now is that you are never alone. There are 200 other International students who feel and experience the same as you do and also there is the international office which helps with everything.
Just do it and have one of the best time in your life!