Ms Lay Leng Loh, a graduate from the programme
The one-year masters created many opportunities for 25-year-old Ms Lay Leng Loh, a recent Singaporean graduate from the programme.
- "What I learned has been very useful for my career and post-graduate research. The faculty are approachable and highly knowledgeable and the programme is designed in a holistic manner incorporating practical experience with theoretical knowledge."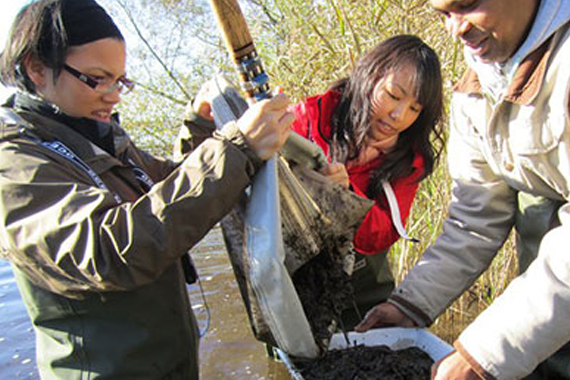 A picture with Ms Lay (in the middle) and her classmates at a field trip
After graduation, Lay Leng spent a year and a half with the Singapore-Delft Water Alliance, where she worked extensively in the field and in the lab on the restoration of an eutrophic pond, monitoring a newly constructed pond in Singapore's Gardens by the Bay, and tracking residues from personal care and pharmaceutical products in waterbodies, using a state of the art polar organic chemical integrative sampler.
When I first learned about the programme at Kristianstad University, I was attracted to the syllabus, as it covered topics I was keen to learn more about. Also, I heard from a former student how much she had enjoyed the programme and the field trips it involved, Lay Leng says.
The chance to experience the Swedish countryside, coupled with the favourable description of the faculty and the content of the programme were key factors in Lay Leng's decision to apply.
"It wasn't only the duration of the programme that attracted me, but also the practical hands-on aspect. In addition, I was keen to immerse myself in a new culture, meet people from different backgrounds and live in a new environment," Lay Leng says.
Lay Leng is currently in her second year as a PhD student at the Department of Civil and Environmental Engineering in the National University of Singapore. Her research is on the role of cyanophages in controlling harmful and nuisance algal blooms.
Lay Leng said that a major advantage of the programme for her was the opportunity to meet people from different countries with widely diverse professional backgrounds.
- "Last but not least, my classmates have become life-long friends who share the same interests and passions," says Lay Leng.