New student association emerges from the IT students
Seven students felt that they had more to give and share with others. They also thought that their most important topics were unheeded, so they decided to found a new student association. Since last year there is now KIT, a hub for not only the IT students.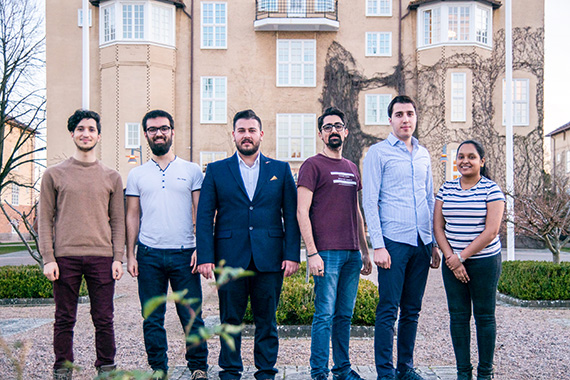 KIT from left to right: Mohamad Ghanem, Stylianos Gakis, Majed Wakim, Bilal Alawwir, Samer Kanjow and Sahithi Kannam (Karl Pedro Bastos missing).
You just founded a new student association, KIT as in Kristianstad IT students. What made you take this step?
– Our purpose is to manage and create an IT hub where students will feel welcome to join and share their experiences with each other. That can be by working together in projects, organizing study groups or sessions, and holding fruitful discussions about how students are feeling about their courses. Aside from that, we will try our best to represent the interests of IT students to the school administration. This will be done by improving the way the school functions by giving constructive feedback, says Samer Kanjow, the fresh president of KIT.
Who are welcome to KIT?
– Initially our main focus was on IT students here at Kristianstad University. However, one of our distant goals are to connect with other students at the university as well, or other people interested in our field.
Who are you? Who are in the board?
– The board is comprised of seven students from the Computer Science department. Except from myself we are Majed Wakim, Mohamad Ghanem, Bilal Alawwir, Stylianos Gakis, Karl Pedro Bastos and Sahithi Kannam.
What will be your first task?
– Our initial task is to spread the word and our idea around campus. We just had a kickoff where we talked and informed about our goals and aspirations and how we will proceed.
If you could make a wish for your association, what would that be?
– Our biggest wish is that all students at Kristianstad University who are studying IT related educations will become part of our association. Furthermore, we want to become the de facto destination for all students at our school that are interested in getting extra help, or making new, unique and inspiring projects, says Samer Kanjow.
Text: Jenny Hultman and Fabian Rimfors
Photo: Private