"The programme seemed to be a perfect combination"
Zlatan, Björn Borg and ice hockey were practically the only things Karthikeyan Deenadayalan knew about Sweden. But the recent year of studies at the Master Programme in Computer Science at Kristianstad University has opened his eyes to something else: sustainability.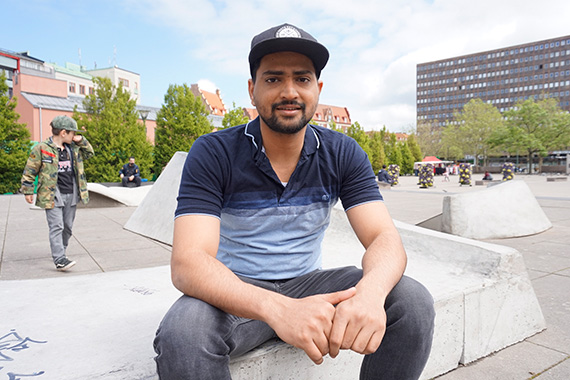 – I've learnt a lot, and now I'm closer to many jobs, says Karthikeyan Deenadayalan, who has studied at the Master Programme in Computer Science Emphasizing Sustainable Development at Högskolan Kristianstad.
When we meet 27-year-old Karthikeyan Deenadayalan outside a café in Malmö, he has already waited for a couple of minutes.
That's one of the lessons I've learnt from living here: always be on time. It's an important thing to all Swedes.
Karthikeyan Deenadayalan was born in the metropol of Chennai in southern India, where he also obtained a bachelor in Electronic and Communications Engineering.
– Even though Chennai is a big city in itself, I wanted to open up the doors and explore the international area. My friend, who had been to Finland, recommended me to go to Scandinavia.
The only things he knew about Sweden were " Zlatan, Björn Borg and ice hockey". But he decided to give it a try. In 2013, he started his studies in Embedded Intelligence Systems at Högskolan in Halmstad.
It turned out to be a good choice, even though it took some time to adapt to the Swedish routines of studying.
Initially it was quite hard. In India, the teachers were focusing on the theoretical part but here, there was more stress on the practical moments.
After two years he went back to India to finish his thesis, and then started to work with software engineering at a small company.
– At that moment I moved from hardware to software. I still had a thought of completing my masters, and after some time, I decided to return to Sweden.
In september 2018, he arrived in Kristianstad in order to follow the Master Programme in Computer Science, Emphasizing Sustainable Development.
For me, this seemed to be a perfect combination of both computer science and embedded systems.
The class turned out to be a small group of ten students from different countries like Latvia, Ethiopia, China, Syria, India and Bangladesh. Many of them found sustainability as a new way of thinking.
I hadn't any experience from from sustainability before. I just presumed that it was equal to environment. But this programme actually opened my eyes. Now I know that sustainability can be used on a huge scale and that it is connected to everything we do.
Karthikeyan Deenadayalan describes the year as a roller coaster. The first months, he was occupied with studies and, and the same time, with distant work for his Indian company.
– I didn't have much time to make new friends in Kristianstad. I liked the town, it is calm and cosy... but after some time, I decided to move to the bigger city of Malmö. From here, it's easy to take the bus or the train to Kristianstad.
During the spring, he has combined the studies with an internship at a computer company in Malmö. But at the moment, he tries to concentrate on the final thesis, which definitely has a sustainable theme:
Briefly, it's about how to lock and unlock e-bikes in an easier manner. In my home town, there are no such bikes. But while writing the thesis, me and my class-mate have had the chance to try several times.
After finishing his degree, Karthikeyan Deenadayalan hopes to find a job which is relevant to his background and knowledge.
–I'll take all the opportunities that comes up. Anyway, my plan is to stay here in Sweden. By now, I think I have adapted to the Swedish way of living.
Written by: Kerstin Weman Thornell